Diana Adam B.A. (Windsor), LL.B (Aberystwyth)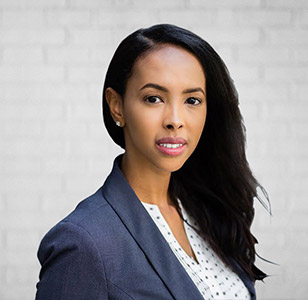 Diana graduated in 2010 from the University of Windsor with a Bachelor of Arts degree in Psychology and Sociology and obtained a British Law degree in 2013 from Aberystwyth University in Wales. She completed her Articles at Jerome Stanleigh Law Firm in Toronto, practicing Civil and Family litigation. Before joining Brown Law Group, Diana worked as an Associate at Henderson Heinrichs LLP representing clients in all types of Family Law matters, from Prenuptial Agreements to post-Divorce modifications. She has appeared in the Provincial Court of Alberta, Court of Queen's Bench of Alberta, and the Court of Appeal of Alberta.
Having a diligent and committed Family lawyer on your side makes the difference. Diana is aware that family disputes can take an emotional toll on clients and their families. There is no doubt that going through a Divorce, dealing with child custody, and other related issues are stressful. Clients often face enormous changes to their family life and standard of living. With that in mind, Diana's goal is to help clients complete a smooth transition to the next stage of their lives. Whether your case demands creative settlement efforts or aggressive litigation, Diana will focus on what matters the most – you and your family.
Areas of Practice:
Divorce
Common Law / Cohabitation
Custody and Parenting
Property Division
Spousal and Child Support
Agreements (Separation, Prenuptial)
Representation in Court Proceedings
Mediation
Adoptions
Civil Litigation
Wills and Estates